High Tide Church
What We Believe
To learn more about High Tide Church and what we believe please click the link below to read our statement of faith. If you have any questions, just send us an email or if you are at church, stop by the Welcome Table. We are so happy to talk to you about how Jesus loves you! Our heart is to share the love of Jesus with everyone we meet, and if you read something in our statement of faith that brings up some questions, just let us know! What We Believe
Guest Connection
Welcome to High Tide Church (HTC). Please take a look around our website to learn more about HTC and to see all that we offer. We are so happy you are here. Be sure to complete the online Connect Card. Printed Connect Cards are also be available at each service if you would rather fill out one in person. Welcome to HTC and let's get connected!

Ladies Night
Join us on Friday, October 14, 2022, at the Roxana Fire Hall for Ladies Night!
Friday, October 14, 2022

6:30-8:30pm
Roxana Fire Hall
35943 Zion Church Road, Frankford, DE 19945
For women ages 17+

Register HERE for Ladies Night
The fun begins at 6:30pm. Baked Chicken will be served and we ask that you bring a side dish or a dessert, see details below. Be sure to register each person in your group and definitely invite your friends and family! It will be a fun, fall night for the ladies. (Ages 17+)
If your last name begins with A-G, please bring a dessert




If your last name begins with H-Z, please bring a side dish



Questions? Contact Tina Graybill at 410-430-6901
PAINT WITH PURPOSE
Paint Night for Tanya
October 21
6-9pm
Frankford Campus
Cost: $40 - all material are supplied
Sign up at the Welcome Table
Only 25 spots available!
During this event you will be instructed, step-by-step, as you create a beautiful Christmas themed painting. You don't have to have any experience at all, it's so much fun and you will be amazed in how each piece that is created that night is unique and beautiful. And best of all, it all helps support our girl, Tanya! 
Event cost is $40 and all the materials are supplied. Payment is due by the night of the event. You can pay ahead of time at the Welcome Table. Cash only please.
flickrThe Frankford Campus is located at 34407 Dupont Blvd., Frankford, DE 19945 (Banks Plaza)
VOLUNTEERS NEEDED
HTC at Whimsical Woods
October 25 & 26
Sign up to volunteer for one night or both!
Volunteer time 4:45-8:45pm
The actual event runs from 5-8pm
Held at Lord's Landscaping in Millville
We are looking for some volunteers to represent HTC at "Whimsical Woods" in Millville. We need two teams of 5 people to serve on either Tuesday, October 25 and Wednesday, October 26. One team for each night. It's going to be super fun as we give out full sized candy bars and HTC information to the kiddos and families that journey on the trail through "the woods" at Lord's Landscaping. 
If you have questions, please contact Carrie Boyden.
flickrSpace is limited, so sign up quickly!
JULY 3 through OCTOBER 23, 2022
Sermon Notes Booklet
Pick up your copy at the Welcome Table or click to Download
Journey: 2 Week Series




Sing Scripture: 1 Week




Real Life: 5 Week Series




Attitude: 4 Week Series




Un-Likely: 5 Week Series

CURRENT SERIES



HELP NEEDED!
HTC Baptistry Delivery
It's getting super exciting! We are expecting the Baptistry for our new building to be delivered between November 1st -15th. We need some help off-loading the unit and getting it moved into the new building.
LOCATION: High Tide Church building site on Nine Foot Road, Dagsboro, DE.
CONACT PERSON: Roy Litz

If you would like to be on the CALL LIST, please fill out this quick contact form.
flickrPLEASE NOTE that filling out the form does not commit you to volunteering, it just means you are willing to be on the call list.

The delivery date will be between November 1-15, 2022, most likely on a weekday. Once we have the exact date and time, we will reach out to all of the names on the call list and put the team together. Through this sign-up we are hoping to have at least 12-15 volunteers. The more that sign up, the better, as we realize that when we reach out to you with the exact date and time of delivery, some will not be able to make it—this is why we are looking for many volunteers. We will definitely need 6 volunteers committed on the day that the delivery occurs.
Description of Work: Off-load the Baptistry from the truck, through two double doors and finally on to the Baptistry framing platform. Hopefully, the platform will be roughed in, if not, the unit will get set on the floor. Unit weighs 395 lbs.
Register Online for Small Groups
Small Groups 2022-23
14 Unique Groups
Various Locations, Dates & Times
Small groups begin gathering in September. Be sure to go to the Small Group page to see a complete listing along with all the contact info, locations, and descriptions. Registration can be done online or in-person at the Welcome Table. Being in a small group is a great way to connect with HTC and grow in your relationship with Jesus. Invite a friend too! Small groups do life together!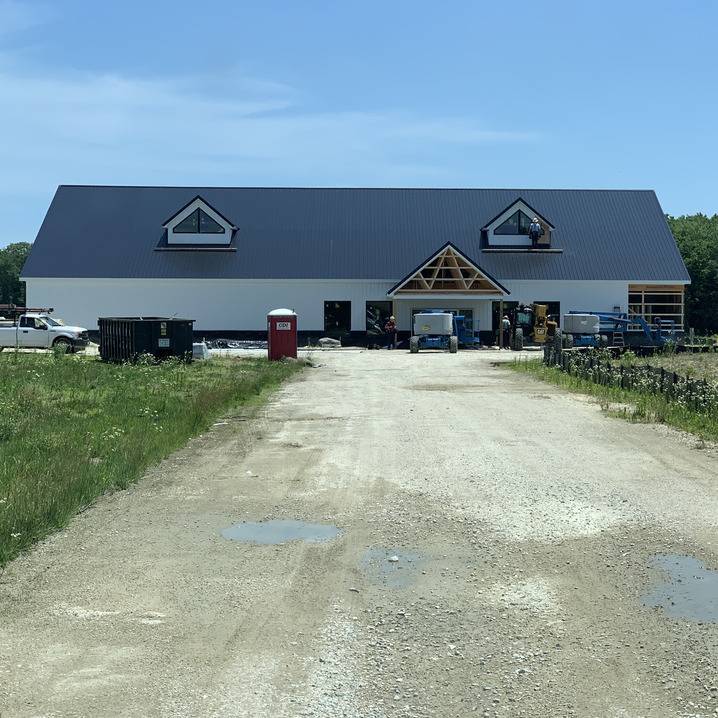 It's MORE than a Building!
A Journey in Photos!
It's really happening. God is so good, He is so faithful. Our prayer has been to build a building that we can call home and it's happening. We know it is all in God's perfect timing, and as things progress, we want to share it in photos. The "Journey in Photos" page will be updated as the building takes shape, so please check back often. It's MORE than a building!
But now in Christ Jesus, you who once were far off
have been brought near by the blood of Christ.
Ephesians 2:13