HTC News & Updates
• IMPORTANT UPDATE: Gforce meets during the 9am service ONLY. There is NO Gforce at 10:30am.
• Welcome Guests! Please sign-in online!
• We want to hear from you! Use the Online Connect Card
• Tanya's 50th Birthday Celebration / Dec 9 / RSVP today!
• Lottie Moon / online giving available through Dec 31
• NEW Invite Cards at the Welcome Table
• Prayer Cards available at the Welcome Table
• The Next Gen at HTC / Preschool, Children & Youth Programs
• NEW Sermon Booklet for Oct 30, 2022-Jan 29, 2023 / Available at the Welcome Table
YOU ARE INVITED TO
Tanya's 50th
Birthday Celebration
December 9, 2022
6-8pm at Smokey Hollow
Help us celebrate Tanya's 50th birthday at a fun birthday party on December 9. You and your family are invited to Smokey Hollow in Selbyville for a great time of birthday fun, food and cake too!
Please be sure to RSVP by December 4. Hope to see you at the party! Smokey Hollow is located at 37632 Lakeridge Drive, Selbyville, DE 19975.
LOVE IN ACTION!
Share the Gospel through
Christmas Caroling
December 4 & 11 (Sunday Evenings)
4:30pm: Meet at the Frankford Campus
5pm-8pm: Caroling in the Community
A great family ministry event!
Coordinator: Pat Quirk
Do you like to sing? And do you love Jesus? Well, if you said yes to both of these questions, you may want to consider joining the Christmas Caroling ministry team this year as we head out to share love and hope to the community. You can come out for one night or both, it's completely up to you. You don't have to be an opera singer, you just need to have a heart for sharing love through song.
If you would like to be a part of this year's ministry team, please come to the Frankford Campus by 4:30pm on either service date (or both). We will divide into groups from there. Remember the best way to spread Christmas cheer is to sing out loud for all to hear.
mapFrankford Campus: 34407 Dupont Blvd., Frankford, DE 19945 (Banks Plaza)
heartOur 2022 Giving Goal is $10,000
heartGive online during the entire month of December
heartGive in-person on Christmas Eve (both services)
heart100% of your giving goes goes directly to the missionaries
Your giving for 2021 resulted in:
3,650 Missionaries Supported



592,408 Heard the Gospel


107,701 People Baptized



176,795 New Believers


22,744 New Churches




93 New People Groups & Places Engaged



Lottie Moon surrendered her life to God's will, and her legacy lives on today. We get to come together each year to champion the work that God is doing among people and places with little to no access to the gospel, and sacrificially give as Lottie encouraged the church many years ago. Support missionaries across the world by giving to Lottie Moon.

This year we celebrate the generosity of Southern Baptists in exceeding our 2021 goal by giving over $203 million to missionaries. To think that the first year Lottie started with $2,000 to send two missionaries, now look at what Lottie's legacy has become! 

To give online though HTC, just click here and be sure to choose LOTTIE MOON from dropdown menu.
If you have any questions about The Lottie Moon Christmas Offering, just email us at office@hightidechurch.org or stop at the Welcome Table.

Want to learn more about Lottie Moon? Check out this page from the imb.org site to learn all about her. Learn about Lottie Moon
Guest Connection
Welcome to High Tide Church (HTC). Please take a look around our website to learn more about HTC and to see all that we offer. We are so happy you are here. Be sure to complete the online Connect Card. Printed Connect Cards are also be available at each service if you would rather fill out one in person. Welcome to HTC and let's get connected!

HTC Christmas Schedule
Christmas Eve (Saturday, December 24)
Two Services; 4pm and 5:30pm
HTC Kids (toddler to 4 years old) will run during both of the Christmas Eve Services. There is NO Gforce or H2O Middle School on Christmas Eve.

Christmas Day (Sunday, December 25)
One Service: 10:30am
There are NO children and youth programs on Christmas Day
mapAll services are held at Roxana Volunteer Fire Company: 35943 Zion Church Road, Frankford, DE 19945.
High Tide Church
What We Believe
To learn more about High Tide Church and what we believe please click the link below to read our statement of faith. If you have any questions, just send us an email or if you are at church, stop by the Welcome Table. We are so happy to talk to you about how Jesus loves you! Our heart is to share the love of Jesus with everyone we meet, and if you read something in our statement of faith that brings up some questions, just let us know! What We Believe
Hungary Mission Trip
Updates & Info
We are so excited to be heading over to Hungary this summer to partner with Word of Life ministries once again. This is a week-long missions trip in which HTC will be helping Word of Life with their children & youth camp. Our service week is scheduled for June 25-July 1 and we will be working with children ages 7-10 years old in the following areas: English, Crafts, Soccer and Baseball. Attending the meeting does not automatically commit you to the trip, this is strictly an informational meeting.
For more information about Word of Life and the Children's camp check out this link WORD OF LIFE/CAMP

Heart  MEET TAMÁS & XÉNI MEZEI AND HELP SUPPORT THEIR MINISTRY DIRECTLY
VOLUNTEERING OPPORTUNITIES
BUILDING HELP NEEDED
Coordinator: Lew Reeves, lewhightide@gmail.com
SIGN UP TO BE ON THE CONTACT LIST

As our church building continues the construction phase, we are seeking help in keeping the floor clear of lumber scraps, sawdust and debris. Keeping a clean environment is step one in allowing the workers to move around efficiently and safely. Plus, in the not too distant future we will need workers outside as we begin the landscaping and the beautification phase of the building, so please keep this in mind also.
If this is something you would be interested in please fill out this form so Lew can contact you to get you on the team schedule. Lew will develop schedules based on the information submitted by all of the volunteers. Our goal is to create a weekly schedule that will work with your schedule and will also help keep the new building clean so interior construction and finishing can continue smoothly. And as we are ready for exterior work, we want to have a team in place for this also.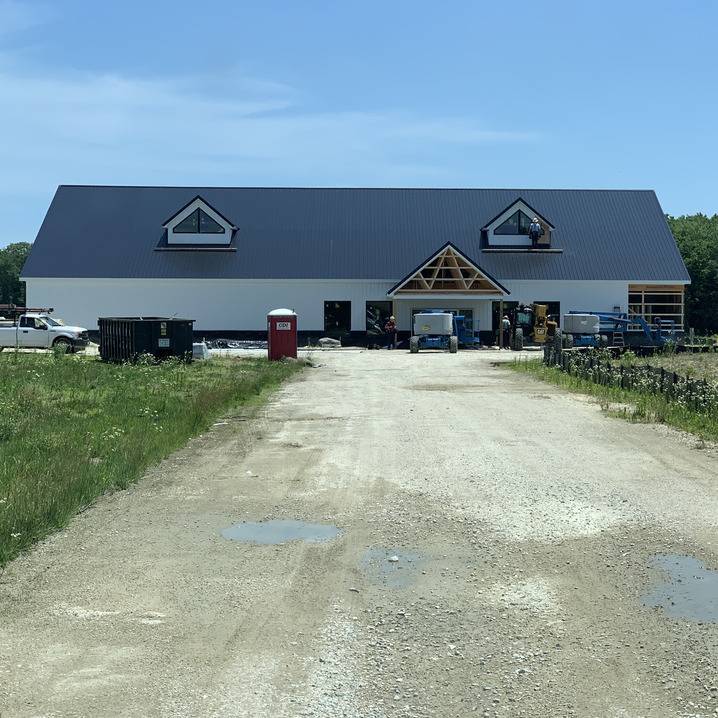 It's MORE than a Building!
A Journey in Photos!
It's really happening. God is so good, He is so faithful. Our prayer has been to build a building that we can call home and it's happening. We know it is all in God's perfect timing, and as things progress, we want to share it in photos. The "Journey in Photos" page will be updated as the building takes shape, so please check back often. It's MORE than a building!
But now in Christ Jesus, you who once were far off
have been brought near by the blood of Christ.
Ephesians 2:13