High Tide Church
What We Believe
To learn more about High Tide Church and what we believe please click the link below to read our statement of faith. If you have any questions, just send us an email or if you are at church, stop by the Welcome Table. We are so happy to talk to you about how Jesus loves you! Our heart is to share the love of Jesus with everyone we meet, and if you read something in our statement of faith that brings up some questions, just let us know! What We Believe
Guest Connection
Welcome to High Tide Church (HTC). Please take a look around our website to learn more about HTC and to see all that we offer. We are so happy you are here. Be sure to complete the online Connect Card. Printed Connect Cards are also be available at each service if you would rather fill out one in person. Welcome to HTC and let's get connected!

Register Online for Small Groups
Small Groups 2022-23
14 Unique Groups
Various Locations, Dates & Times
Small groups begin gathering in September. Be sure to go to the Small Group page to see a complete listing along with all the contact info, locations, and descriptions. Registration can be done online or in-person at the Welcome Table. Being in a small group is a great way to connect with HTC and grow in your relationship with Jesus. Invite a friend too! Small groups do life together!
Pack a Backpack
Backpack pickup: August 14 & August 21
Bring back your filled Backpack: August 28
Event Coordinators: Ed & Peggy Smith
The Pantry has received 72 backpacks from Send Relief (Baptist Ministry). We will be giving these packbacks out, along with the listed school items, to our clients' elementary & middle school age children. The filled bags will be given to the children on September 2 along with food for their families. As we did last year, we are asking our church membership to fill the backpacks with the requested items listed below
You can pickup your backpack the next two Sundays at High Tide Church: August 14 and August 21 . We ask that you return the filled backpacks by August 28, 2022. Your generosity is greatly appreciated and will make life a little easier for some of our local families.
Elementary School
1 pack Ticonderoga #2 pencils




1 box of 24 crayons




1 pack Expo Dry Erase markers




1 pack glue sticks




3 pocket folders (with prong fasteners)




1 black & white composition Book
Middle School
1 pack mechanical pencils




1 pack colored pencils




1 pack skinny markers




1 black & white composition book




1 pack cap erasers




1 pack glue sticks




1 pack wide-ruled loose leaf paper




1 spiral notebook



FOR THE GUYS!
Men's Fellowship at Camp Barnes
Friday, September 9, 2022
5:30 until ??
Contact: Les Grow
Register for Men's Fellowship Night
Camp Barnes is located at 37171 Camp Barnes Road, Frankford, DE 19945
This is a night of fellowship for men of all ages. Invite your dad, your son, your friends - all men are welcome, all ages. During this event, you will get to hear God's Word, worship with great music, and of course there will be food. Enjoy a fun cookout with S'mores too!
Register ahead so we know that you are coming and can prepare. It's going to be a great night! If you have any questions, please contact Les Grow.
Get ready for a fun afternoon of fellowship at Camp Barnes!
Annual HTC Picnic
Date: Sunday, September 11, 2022
Time: 1:00pm-6:30pm

Location: Camp Barnes, 37171 Camp Barnes Road, Frankford, DE 19945

Food , Games, Cornhole Tournament, and Fellowship

Bring a Friend!
Register for the Church Picnic

Join us Sunday afternoon, on September 11, as we get together to unwind, enjoy the beautiful outdoors, and have a fun afternoon together. There will be food, a corn hole tournament, food, other outdoor games, food, time to enjoy God's creation, and did we mention...food!
The main food and all drinks, utensils, plates, napkins, etc with be provided. We are asking that each family group bring a dessert or side dish. Please provide enough to serve 8-10 people. To help with the clean-up process, if possible please use a disposable dish/plate for your side dish or dessert. If you provide a serving utensil for your dish, please be sure to pick it up at the end of the picnic. Sign up at the Welcome Table OR Online.
videoNOTE: If you have a Cornhole Lawn Game Set be sure to bring it along. We are looking to have multiple games going on for the tournament and need to have multiple sets!
JULY 3 through OCTOBER 23, 2022
Sermon Notes Booklet
Pick up your copy at the Welcome Table or click to Download
Journey: 2 Week Series




Sing Scripture: 1 Week



Real Life: 5 Week Series

CURRENT SERIES




Attitude: 4 Week Series




Un-Likely: 5 Week Series



THURSDAY, SEPTEMBER 1, 2022
Golf for Life Invitational for the Sussex Pregnancy Care Center
The Rookery Golf Club in Milton DE
8am Registration / 9am Shotgun
$135 per person (check made payable to SPCC)
Woman & Men
Online HTC Sign-up form due by August 19, 2022
Please have your check to Lew or Scott by August 19, 2022
HTC is looking to put some teams together for this event. If you would like to be included on a team, just click on the HTC Team Member registration link above. Lew Reeves and Scott Hook are coordinating the HTC team(s). Your day includes great golf, riding cart, fruit, drinks, snacks, lunch and prizes & awards after golf.
Questions, please contact Scott Hook at revhook1@gmail.com or Lew Reeves at lewhightide@gmail.com.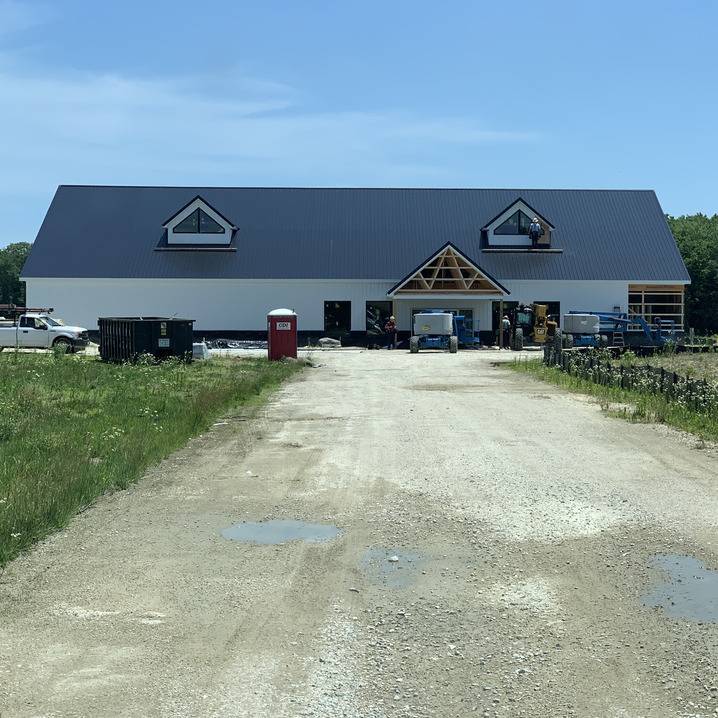 It's MORE than a Building!
A Journey in Photos!
It's really happening. God is so good, He is so faithful. Our prayer has been to build a building that we can call home and it's happening. We know it is all in God's perfect timing, and as things progress, we want to share it in photos. The "Journey in Photos" page will be updated as the building takes shape, so please check back often. It's MORE than a building!
But now in Christ Jesus, you who once were far off
have been brought near by the blood of Christ.
Ephesians 2:13